You have not finished winning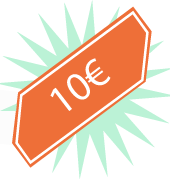 Each time a new godchild registers, you earn a discount voucher of €10 including tax to be used on your next purchases!
The more you distribute your referral code (by email, on forums, blogs, social networks or any other means), the more coupons you earn!
It's simple, easy and fast!
Which discount vouchers? And how to use them?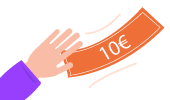 Here too, it's simple and quick:
1) If a godchild registers, you automatically receive a discount voucher of €10 including tax* valid for 100 days throughout the shop.
2) To use your vouchers, fill your shopping cart with the desired items and, in the summary, indicate the code received by e-mail. It's that simple! (limited to one voucher per order)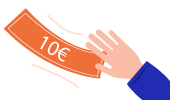 3) Your godchild is not to be outdone... If he registers with your sponsorship code, he also receives a voucher of €10 including VAT* valid for 100 days and valid for his first order!
(*) These vouchers can only be used for orders with a minimum purchase of 100 € including VAT.
Your information and that of your godchildren are protected and confidential
In accordance with our privacy policy, your information and that of your godchildren are not given, sold or transferred to third parties.
Their use is authorized only by Harmony Béton and limited to its promotional needs, of which the sponsorship program is a part.
Under no circumstances will you or your godchildren be solicited by a third party through Harmony Béton and this sponsorship program.
Decency and good faith
We create these kinds of programs in good faith, a good faith that we hope will be reciprocated by the participants.
Thus, nothing in the sponsorship program shall result in any commercial relationship or commitment between the sponsor and Harmony Béton or any of its affiliates.
The sponsor may under no circumstances represent or engage Harmony Béton on its behalf.
As such, any use of the sponsorship codes for commercial, advertising, sales or mass distribution purposes is strictly prohibited and will under no circumstances be honored by Harmony Béton.
The delivery address of the godchild and the godfather cannot be identical. In this case, Harmony Béton reserves the right to cancel the sponsorship and discount vouchers.
Rewards are not transferable and cannot be exchanged for cash.
These terms and conditions are subject to change.